26 Notion Covers of Miniature Nebula Astronauts from MidJourney Prompts
26 Notion Cover images of astronauts in nebulas
There's something that resonates with me when I think about astronauts exploring something wonderful.
I've been on a miniature space dioramas kick in MidJourney lately, so I decided to stick with the miniature diorama theme.
Here are 26 MidJourney AI generated images of astronauts surrounded by nebulas that are perfect for Notion Cover images.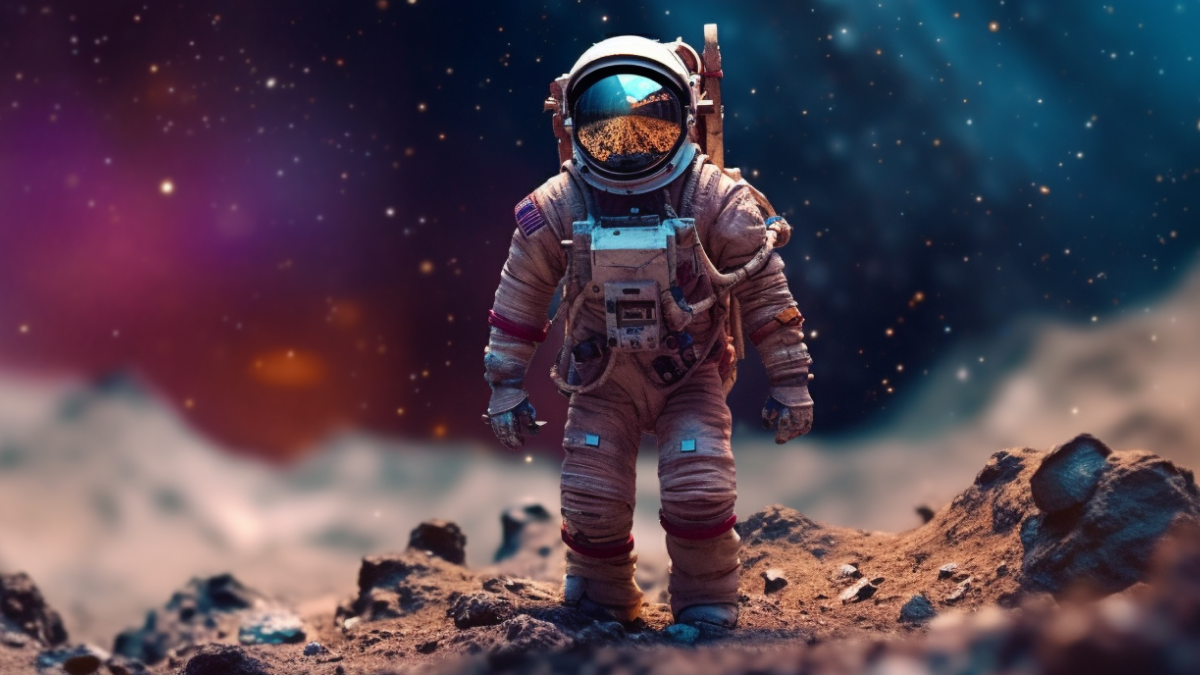 Astronauts & Nebulas Notion Covers
/imagine prompt: miniature diorama tilt-shift astronaut nebula --ar 5:2 --style raw


/imagine prompt: miniature diorama tilt-shift astronaut nebula --ar 5:2 --style raw


/imagine prompt: miniature diorama tilt-shift astronaut nebula --ar 5:2 --style raw

/imagine prompt: miniature diorama tilt-shift astronaut nebula --ar 5:2 --style raw


/imagine prompt: miniature diorama tilt-shift astronaut nebula --ar 5:2 --style raw


/imagine prompt: miniature diorama tilt-shift astronaut nebula --ar 5:2 --style raw


/imagine prompt: miniature diorama tilt-shift astronaut nebula --ar 5:2 --style raw


/imagine prompt: miniature diorama tilt-shift astronaut nebula --ar 5:2 --style raw


/imagine prompt: miniature diorama tilt-shift astronaut nebula --ar 5:2 --style raw


/imagine prompt: miniature diorama tilt-shift astronaut nebula --ar 5:2 --style raw


/imagine prompt: miniature diorama tilt-shift astronaut nebula --ar 5:2 --style raw


/imagine prompt: miniature diorama tilt-shift astronaut nebula --ar 5:2 --style raw


/imagine prompt: miniature diorama tilt-shift astronaut tripping nebula --ar 5:2 --style raw

/imagine prompt: miniature diorama tilt-shift astronaut tripping nebula --ar 5:2 --style raw


/imagine prompt: miniature diorama tilt-shift astronaut tripping nebula --ar 5:2 --style raw


/imagine prompt: miniature diorama tilt-shift astronaut tripping nebula --ar 5:2 --style raw


/imagine prompt: miniature diorama tilt-shift astronaut tripping nebula --ar 5:2 --style raw


/imagine prompt: miniature diorama tilt-shift astronaut tripping nebula --ar 5:2 --style raw


/imagine prompt: miniature diorama tilt-shift astronaut tripping nebula --ar 5:2 --style raw


/imagine prompt: miniature diorama tilt-shift astronaut tripping nebula --ar 5:2 --style raw


/imagine prompt: miniature diorama tilt-shift astronaut tripping nebula --ar 5:2 --style raw


/imagine prompt: miniature diorama tilt-shift astronaut tripping nebula --ar 5:2 --style raw

/imagine prompt: miniature diorama tilt-shift astronaut tripping nebula --ar 5:2 --style raw


/imagine prompt: miniature diorama tilt-shift astronaut tripping nebula --ar 5:2 --style raw


/imagine prompt: miniature diorama tilt-shift astronaut tripping nebula --ar 5:2 --style raw


/imagine prompt: miniature diorama tilt-shift astronaut nebula --ar 5:2 --style raw


Share on Twitter